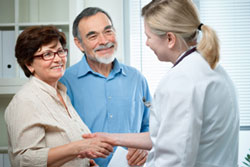 Patient?
What you need to know and the action you can take
Please review the action points below and then follow the links on this page to learn more about AF, stroke and steps you can take.
Click below to learn more.
Prevent a silent epidemic
This report highlights that there has been a lack of patient and public education on AF, which is contributing to the challenges of ineffective diagnosis and treatment. If not overcome, these challenges will result in a silent epidemic of AF and deadly strokes. If you're concerned for yourself or for someone else, please read of the report and follow the links to find out more.
Become empowered
Research has demonstrated that we benefit more from medical treatment not only when we understand our health conditions and the treatment that our doctors recommend, but also when we have been involved in decisions about out treatment. Today, the effective treatment of AF, and the prevention of AF-related stroke are severely limited by several key challenges. Among these are low public awareness of AF or how to check for it; accompanied by low patient knowledge of AF, its risks and treatments.
Make sure you're on the right treatment
As explained in chapter 8 doctors are sometimes reluctant to follow treatment guidelines because of misplaced fears about the risks of anticoagulation therapy. If you have AF, it's important to learn about the recommended treatments and, because every patient is different, you should ask your doctor to explain why you've been prescribed your current treatment.
| | |
| --- | --- |
| HAVE AF? | If you have AF, or are concerned for someone who does, it is vital that you have a good understanding of why and how AF increases the risk of stroke. For this reason, we recommend using the [link to calc: stroke risk calculator], and then reading the short chapters here on stroke and why AF matters. The stroke risk calculator will also suggest the treatment you should be receiving, and this section of the report explains why many patients don't receive treatment that effectively reduces their risk of stroke |
| DON'T HAVE AF? | If you don't have AF, but it's vital that you become familiar with your pulse and learn how to check your pulse for an irregular heart beat |